Free Agent Fits: Defensive Backs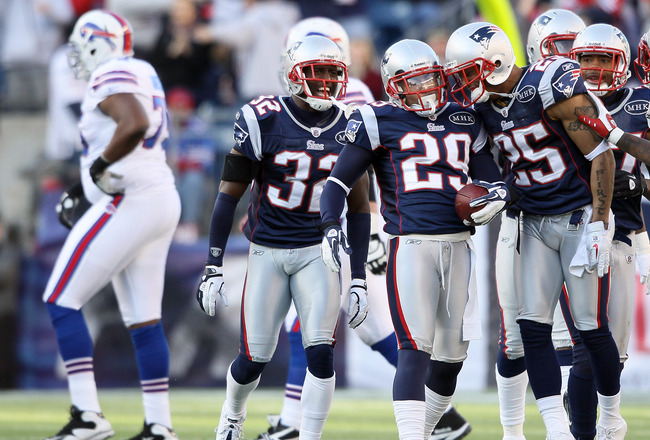 When Bart Scott said the Patriots defense "couldn't stop a nosebleed" after the 2010 playoff defeat, he wasn't joking.
Unfortunately, that trend carried over to 2011 where Belichick's defense was only one spot from taking home the trophy for the worst pass defense in football.
Between injuries, ineffectiveness and a pure lack of talent, the Pats struggled mightily to cover or make plays on the ball, and those deficiencies directly contributed to the fourth-quarter collapse in the Super Bowl.
Sure, Belichick is regarded as a terrific defensive coach. He's made guys like Mike Vrabel household names while developing talent like Asante Samuel into Pro Bowlers. He's hit on first-round picks in Richard Seymour, Ty Warren, Vince Wilfork and Jerod Mayo.
But it's time to stop living in the past.
Simply put – this team lacked sufficient talent in the secondary to compete.
Pat Chung is a solid player, but hasn't become the next Rodney Harrison.
The other safety spot was laughable with James Ihedigbo, Josh Barrett and Sergio Brown proving they're nothing more than special teamers.
Devin McCourty looked like the next Ty Law as a rookie, but played like Darius Butler as a sophomore.
Kyle Arrington surprisingly led the team with seven picks, but he's far from a shutdown corner.
Ras-I Dowling, the top pick of the second round who entered the league with durability concerns, lasted two games before going on IR with a hip injury.
Now it wasn't all bad for the Pats. They did find a feisty playmaker in Sterling Moore who could be a nice sub-package player. If Dowling returns to health, and McCourty plays even to 75 percent of his rookie form, New England will be in better shape.
There's no doubt the team needs to attack both the free agent market and draft to upgrade the secondary. With big-name guys like Cortland Finnegan and Brandon Carr off the market, let's take a look at some free agent fits for the Pats.
1. Tracy Porter, CB: After picking off Peyton Manning in '09, many pegged Porter as the next shutdown corner. His inconsistency and inability to stay healthy has prevented the Super Bowl hero from achieving that status. After entering the league as a high second-round pick (40th overall), Porter earned a starting spot in the Saints' Super Bowl season. However, he's missed 10 games over the past three seasons and only has two picks over his last 26. He has great speed (4.37), but only adequate size (5-foot-11, 188 pounds). The Patriots could offer him a one-year, incentive-laden deal if he's looking to re-establish his value.
2. Lardarius Webb, CB: Anyone who watched the AFC Championship game knows this guy can play. Blessed with incredible athleticism, Webb has entered the conversation as the next shutdown corner. The biggest obstacle with bringing him to New England is that he's not an unrestricted free agent. The Ravens tendered Webb at the first-round level meaning New England would have to sign him to an offer sheet and surrender one of their first-round picks to get him. Considering his experience and ascending play, it wouldn't be such a bad idea to bank on a sure thing in Webb rather than a rookie.
3. LaRon Landry, S: Type in "LaRon Landry bicep" in Google Images and you'll quickly realize whatever workout you've been doing isn't enough. This guy is jacked! However, his big biceps don't match his play. Landry has been incredibly injury prone during his career and has only played in 17 games the past two seasons due to an Achilles injury. He entered the league as a rare top-10 pick at safety and was expected to form a lethal duo next to Sean Taylor. Unfortunately Taylor was murdered and Landry has never become the consistent, imposing force the Redskins thought he could be. The former LSU star probably won't get a lot of guaranteed money because of his durability concerns, and his playing style is eerily similar to Pat Chung, but he'd instantly be the most physically gifted of any defensive back on the team.
4. Steve Gregory, S: Reports have stated Gregory already has a visit lined up with the Patriots. The former Charger is solid, but not flashy in any area. He's not much of a playmaker with only four picks and two forced fumbles in 85 games, but he does bring starting experience at an affordable price. Gregory isn't a difference maker, but he could be a solid player who can contribute on special teams.
5. Mike Adams, S: The former Brown is another solid player who the Patriots have expressed interest in before. He has decent size at 5-foot-11, 200 pounds and has plenty of experience (114 career games). Adams has made more impact plays than Gregory, registering four sacks, two forced fumbles, six recoveries and 12 picks and 36 passes defended in his eight-year career. He could probably compete for a starting spot while teaching a rookie or possibly McCourty the nuances of the position.
Follow Stephen on Twitter @SSheehan925 for the latest Patriots news, draft talk and analysis.